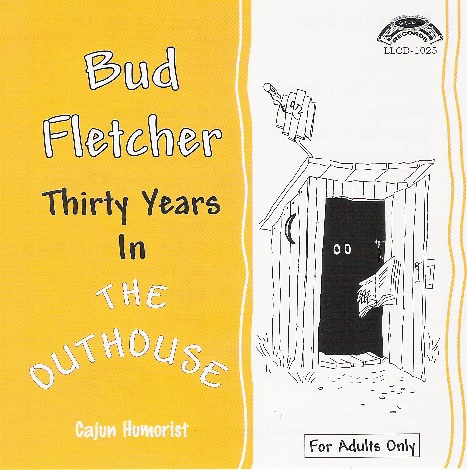 Bud Fletcher - 30 yrs. In The Outhouse
Itís been 30 years since his last release so we have collected
60 minutes of his best Cajun jokes for this CD.
Bud Fletcher was the most popular Cajun humorist during the early 70ís with his comedy albums from the outhouse. Although back then his jokes were considered risque, today this material is acceptable
for television.... boy have times changed.
One thing that definitely hasnít changed is that people Love
to laugh. With all the problems along the South Louisiana gulf coast, itís time for people to enjoy a little humor and laugh more than they've
laughed in the last 30 years.
JOKES
1. Bug In The Bush 2. Cuticle 3. Stagnant 4. Fish In Channel 5. Revenge 6. Give Him A Number 7. Gold Commode
8. Leprosey 9. Leave For Sure 10. Kangaroo 11. Lion In The Cage 12. The Donkey 13. Mop Bucket 14. No Sex Life
15. Rang Dat Doorbell 16. Stolen Bicycle 17. The Golf Lesson 18. Ice Box 19. The Milkman 20. The Motorboat
21.You Overcoat 22.Supercharged Camel 23.War Bonds 24.Pay Attention 25.Father Celestine's Donkey
26.No Paper 27.Zipper Bag 28.Closing


Available on CD only